Media
Last Wednesday evening (September 21), Dr Biggs performed live surgery for 80 GP's and physiotherapists at Westmead Private Hospital, utilising the video image transfer system available at the hospital. It was an educational evening showing the latest techniques in rotator cuff repair surgery, followed by a lively discussion on the latest techniques in rehabilitation following rotator cuff repair surgery led by principal physiotherapist, Sean Mungovan.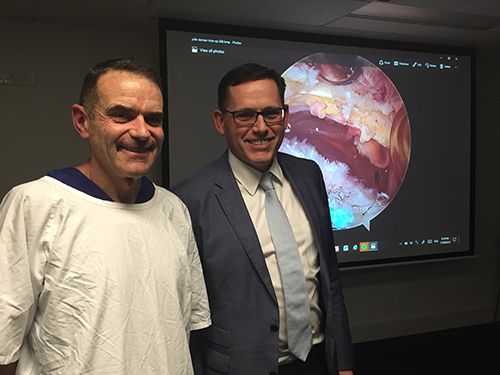 Dr Daniel Biggs orthopaedic surgeon and Sean Mungovan physiotherapist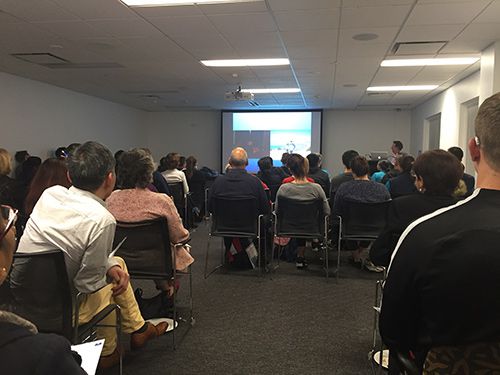 Dr Daniel Biggs live surgery meeting
Courageous Fremantle youngster Anthony Morabito nears AFL comeback

Malceski steered Morabito in the direction of Sydney orthopaedic surgeon Daniel Biggs, who performed the trailblazing LARS procedure on him five years ago.

Operation Waverider - Newspaper Article

Revolutionary key-hole shoulder surgery to repair surfer Steve Reyolds' torn rotator cuff tendon.

Click here to download the PDF

Bionic Nick is the future

Surgery, a whole new game.

For one brief moment Dr Danny Biggs, the Sydney orthopaedic surgeon who performed revolutionary knee reconstruction surgery on Nick Malceski just 12 weeks ago, thought he saw his worst nightmare come true.

Ground-breaking LARS Surgery to repair the knee of Nick Malceski, Australian rules footballer of Sydney Swans

Nick Malceski talks through his LARS surgery
Knee Case Studies
Bionic Man set for milestone

WHEN you've had "three knees", as they say on planet football, getting to three figures is some achievement.

Sydney's Nick Malceski praises LARS ahead of his 100th game

SYDNEY defender Nick Malceski has paid tribute to LARS surgery ahead of his 100th game, saying his career would have prematurely ended without the cutting-edge knee reconstruction technology.

Nick Malceski walking normally four days after radical knee reconstruction

IF Nick Malceski had his way he wouldn't choose to be the pin-up boy for LARS knee surgery, but after his second bout of the radical surgery he professes more faith in the procedure than he had the first time.

The only evidence that Nick Malceski was a guinea pig for all players who shred their knee ligament is two scars on his right leg.

The largest lies about 15cm below his knee, and the other is a shallow indent above the knee. As Malceski tells it, the surgeon cut into his calf, threaded industrial strength polyester fibre through his damaged knee, and poked it out through his thigh. Voila! as the French surgeon, JP Laboureau, who developed the radical LARS operation may have said as he inserted the last stitch.

Sydney's Nick Malceski could be back playing football within three months of having major knee surgery.

Malceski had his ruptured anterior cruciate ligament repaired in Sydney on Friday in a procedure that has revolutionised knee repairs in Europe.

Heath to go under knife after repeat knee injury

SYDNEY defender Campbell Heath has ruptured his anterior cruciate ligament and will undergo surgery on Monday.

Heath, 19, who played two senior games last year, injured his left knee when he landed awkwardly at training last Friday.

He ruptured the same left knee ligament two years ago, not long after he was taken as pick No.61 in the 2008 national draft.

Swans doctor Nathan Gibbs said Heath and his family had considered several options during the past few days, and decided to undergo the controversial LARS (ligament augmentation and reconstruction system) procedure. That should enable him to return to play in 12 to 16 weeks.

Gibbs said the surgery would be performed in Sydney by Dr Danny Biggs, who was experienced in the procedure and has probably done more LARS operations than anyone in Australia. "We're expecting good results for Campbell," Gibbs said. "It's unfortunate that the conventional ligament repair he had previously on his left knee has re-ruptured."

The first AFL player to undergo LARS surgery was Swans defender Nick Malceski after he ruptured his anterior cruciate ligament in February 2008.

"We have learnt from our experience that the recovery time is exceptional, at three to four months instead of the player being out for nine to 12 months," Gibbs said. ''So far, in my experience with both Nick Malceski and patients at my clinic, the re-rupture rate after LARS surgery is no different to the conventional [reconstruction] operation."
Shoulder Case Studies
Coming soon
LARS in the media